NICKERSON — A Tekamah man escaped injury when the semi-tractor-trailer he was driving collided with a Burlington Northern Santa Fe Railroad train in Nickerson on Tuesday morning.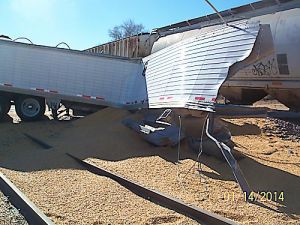 Robert Deemer, 67, was headed east in a 2002 Volvo semi-tractor-trailer hauling corn and crossing the railroad tracks on Cedar Street when a northbound BNSF train struck his vehicle at 11:10 a.m., said Dodge County Sheriff Steve Hespen. The crossing is just north of Central Valley Ag Co-op in Nickerson.
"The train hit the semi-trailer, spilled grain and cut the trailer in half," Hespen said.
The crossing is only marked with crossbucks and no gate, he said.
The 55-car train sustained damage to the engine's air system, Hespen said. Larry Elliott Trucking of Tekamah owned the semi-truck.
source: http://norfolkdailynews.com